293mm Membrane Filter Holders
This is a large Membrane filter holder designed to filter relatively higher volumes of fitration.The higher flow rates and through puts with easy clean ability has made this unit as one of the most commenly used flitration system be injectable / Ophthalmic / Vaccine / herbal / products % many other manufactures.This GMP holders can be supplied with sanitary flange inlet and outlet.Optional values are also possible on inlet and outlet side.
47mm SS Funnel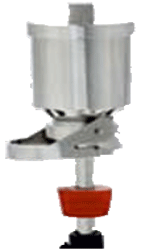 This is one of the industries standard for a variety of applications like Microbillogical testing, sterile filtration,particle removel,mobile phase filtration,sterility testing etc.The 47mm SS funnels manufactured by us can be used as stand alone unit on a side arm flask or in combination with 3 or 6 place manifold.
3/6 Place Manifold
For Microbillogical testing or Sterility testing of 3/6 samples at a time.This unit minimizes the time consumed for filtration compared to single unit,there by helps in increasing Microbiologists productivity.The unit has individual value on each branch,which helps in filtration Of one,two % three samples at a time,The unit is completely made up of SS 316,autoclavable silicone rubber stoppers.The funnels capacity is 250 ml with simple C Clamp arrangement which is user friedly.Suitable tubing and suction flask are also provided with monifold.